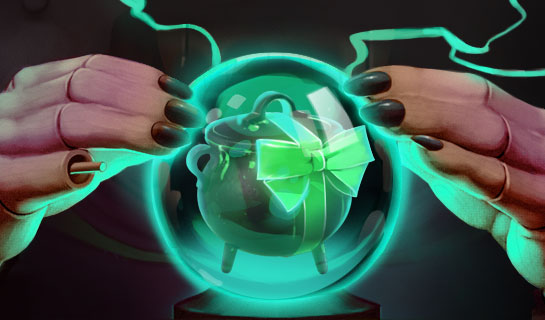 There's a long list of reasons why we look forward to the Team Fortress Halloween update every year. It's a chance for us to try some fun new things within the framework of a time-limited holiday. We're all really excited to see what you think of this year's event.


It's also an opportunity every year to revisit decisions we made it in previous years and see what we've learned and what we want to do differently. As one specific example, we've spent a bunch of time internally talking about the Halloween gift drops. We have a bunch of amazing content we're about to ship and we wanted to evaluate the gifting system to figure out if it was a good method for distributing some of that content.

When gift drops were introduced way back in 2011's Scream Fortress update, they were intended to be a small value-add — a simple bonus for all players participating in the update. As time went on and Halloween updates came and went, however, some players spent more and more time focusing on gifts, often to the detriment of the players they were playing with. The Halloween experience for many players now consists of sitting idle in a custom server while a plugin teleports them from gift spawn point to gift spawn point.

Ordinarily we don't mind if players do things that we don't personally enjoy as long as their fun doesn't harm the quality of experience for other players. In this particular case, however, because the overwhelming majority of gifts claimed went to a tiny handful of accounts, we feel comfortable characterizing the current system as blatantly and transparently unfair: While some farming accounts claimed more than five hundred gifts just last year, the median numbers of gifts claimed was only five.

As before, we're continuing to iterate on gifts for this year's event. In line with our original goals of giving all participating players some free Halloween content without affecting the core experience, this year we'll be giving every player one guaranteed gift bundle just for logging in during the event. This bundle will contain a random sample of some of this year's content, including some that would otherwise only have come from crates. To keep some of the fun of getting multiple gifts through the event, all players can earn a secondary bundle by completing some of the event achievements. Put together, these two bundles will grant more items per player than the median five gifts from last year.

Because historically the total number of gifts has been unbounded, and the distribution incredibly skewed, we have been greatly limited when it came to what sort of content we could distribute. As we're now more tightly controlling the distribution, we can grant a wider variety of more interesting content and we look forward to seeing you all get your hands on some of it in just a few days.